Pressure Cleaning Commercial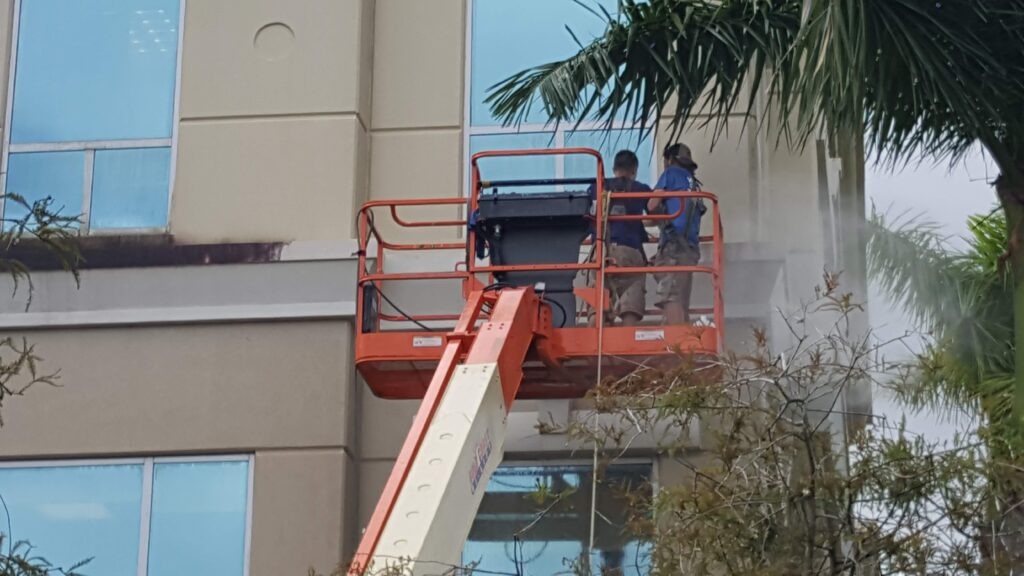 As a property owner or facilities manager, you want to present your place of business as responsible and accountable. One item overlooked by others in your position is how the property is perceived by the onlookers. If the onlooker is a perspective client, then their perception of your business is essential. The nuance of a clean facility is rarely noticed. But the property that has got green algae-covered walls and sidewalks, filthy entrances, and unkept parking lots, is very noticeable. We are here to partner with you to keep your property looking fresh and clean.
We provide high-powered pressure washing equipment to blast away the grunge and bring the facility back to its former glory. When needed we apply algaecides and bleach to further protect against growth. We are responsible in our approach to the property always making sure to protect first the public and your employees, second the surfaces and paint, and lastly the plant life, environment, and landscaping. Leaving nothing behind but a well-kept and clean facility. Call today for a free and no-obligation bid. When you do, be sure to ask about our maintenance agreements, our way of making your job a little easier is by offering a regularly scheduled service call that meets your needs and requirements, off-hour service call options, and regular billing costs to work easily within any budget.
Pressure Cleaning Residential
Your home is important to you and the way it looks is too. Nothing is worse than being the dirtiest house on the block or getting a "better clean your house" letter from your homeowner association, right? Whether It's gone to this extreme or your seasonal cleaning, we are committed to providing excellent dependable service for you year after year. Most properties clean the walls and walkways at least once per year. Driveways and pool patios tend to go more often depending on location, traffic, and events. We recommend cleaning your roof no more than once every two years and never leaving it dirty for long periods of time. Three years is usually the maximum. Bugs and cobwebs are usually the worse culprits for a dingy-looking house, which we sweep away with ease. A further benefit of pressure washing is keeping the contaminants off the paint regularly will help the life of your paint also. To schedule a free, no-obligation quote with our office today and keep your home off the neighborhood's radar, Call us today.