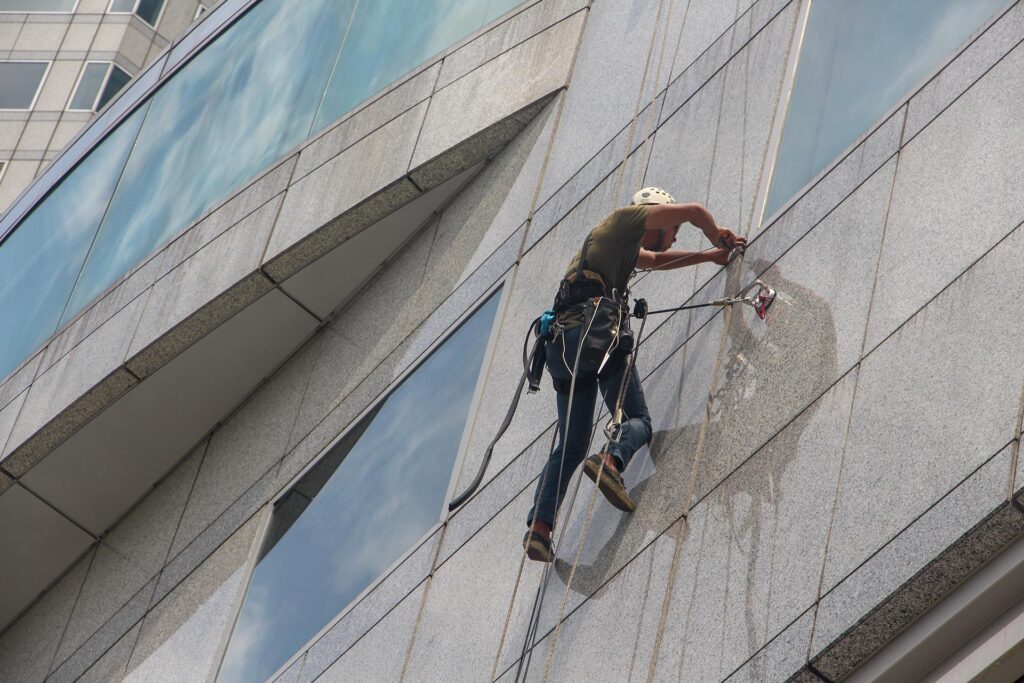 As a property or project manager, our job is to take the worry out of your job… well at least out of the part concerning us. We do this by delivering professionalism, fair and competitive rates, the highest possible quality, reliability, convenience, exceptional workmanship and most importantly, safety.
After all these things are met , you may feel, comfortable, content, relaxed , at ease, like your toes are in the sand, sitting under an umbrella with a cold drink in your hand, awesome!!! Okay, maybe not that great, but you will be confident that you made the best choice for your company and others will compliment you on our work and your intuitive decision to hire us. That has got to make your job a little easier, Right?
We have found that having a discounted, budgeted monthly charge is economical, easier and a more effective way of maintaining the property and also offers relief from high intermittent charges. This takes the pressure off of managers to make sure they call and schedule services and puts them into a "automatic rotating schedule." We will set up the frequency with you at the beginning of the service, and maintain it for you alerting you of upcoming appointments by your desired form of communication, either sending you emails, texts, or calling you directly.
This shows our commitment to you. No other company in our field offers this service. We believe in the success of your company and are here to partner with you in every aspect of business.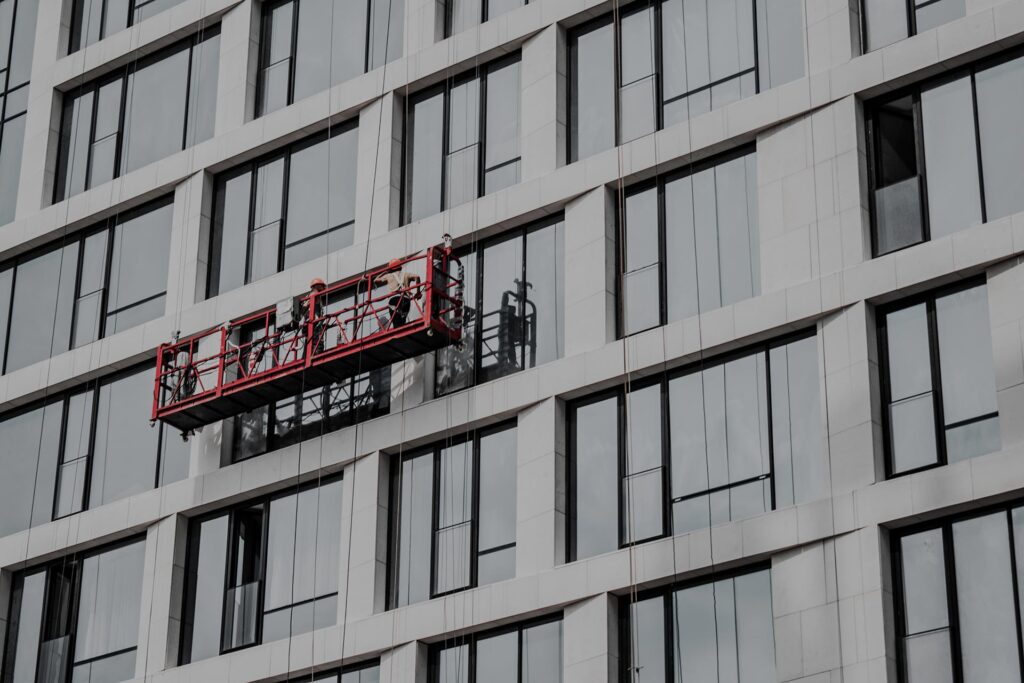 Pressure Cleaning Commercial
As a property owner or facilities manager, you want to present your place of business as responsible and accountable. One item overlooked by others in your position is how the property is perceived by the onlookers. If the onlooker is a perspective client, then their perception of your business is essential. The nuance of a clean facility is rarely noticed. But the property that has got green algae-covered walls and sidewalks, filthy entrances, and unkept parking lots, is very noticeable. We are here to partner with you to keep your property looking fresh and clean.
We provide high-powered pressure washing equipment to blast away the grunge and bring the facility back to its former glory. When needed we apply algaecides and bleach to further protect against growth. We are responsible in our approach to the property always making sure to protect first the public and your employees, second the surfaces and paint, and lastly the plant life, environment, and landscaping. Leaving nothing behind but a well-kept and clean facility. Call today for a free and no-obligation bid. When you do, be sure to ask about our maintenance agreements, our way of making your job a little easier is by offering a regularly scheduled service call that meets your needs and requirements, off-hour service call options, and regular billing costs to work easily within any budget.
Welcome your premier glass cleaning company dedicated to providing impeccable window cleaning services. With our team of highly trained professionals, we ensure your windows sparkle and shine, allowing natural light to flood your space. Whether you own a residential property or manage a commercial building, we offer tailored solutions to meet your specific needs. Our state-of-the-art equipment, coupled with eco-friendly cleaning agents, guarantees streak-free and spotless windows every time. We take pride in our attention to detail and commitment to customer satisfaction, making us the top choice for window cleaning. Experience the transformative power of Crystal Clear and let your windows radiate brilliance.
Outside windows get dirty often due to the elements and that can stain due to neglect ultimately to an unrestorable state. We are here to prevent that from happening. We have several methods of varying degrees to accomplish the kind of cleaning you expect. Through experience and time-tested results, we can assess and diagnose the best method to accomplish your desired outcome. You can expect a detailed, comprehensive cleaning while taking great care of the property and its foliage. Below are a few details of our services and methods for your commercial low-rise and residential single-family homes.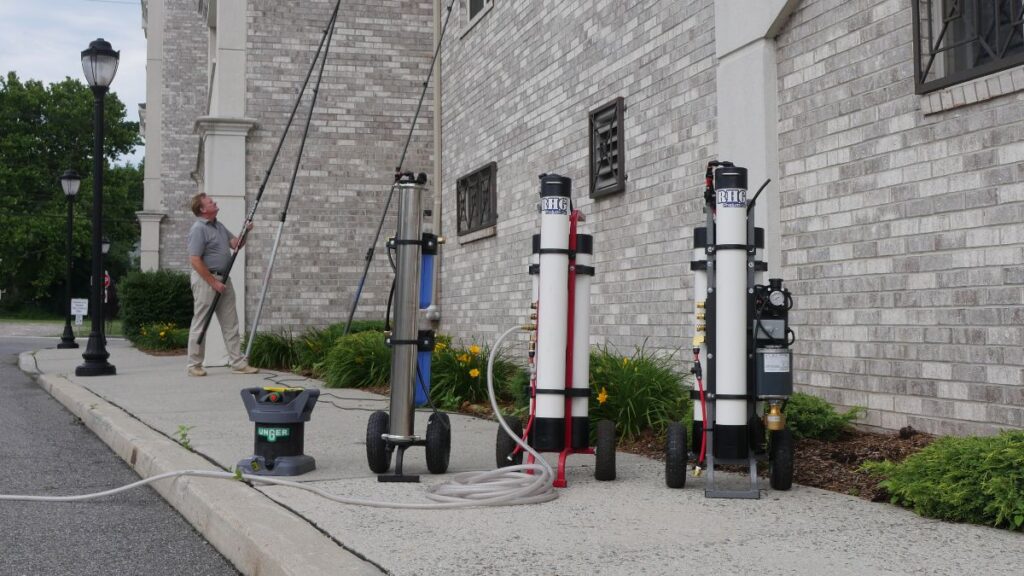 Our system simply put, is a better way to clean glass. This technology allows us to clean glass in a practical, environmentally friendly, efficient process that produces crystal-clear results. We purify water from the site's source and apply it to the window surfaces using soft nylon bristle brushes. Elbow grease and a firm rinse are often all that is needed to maintain clean windows and frames. But rest assured, whenever heavily soiled windows just won't come clean, we are always prepared with alternative methods to use everything from a mild detergent to harsh acids to get the work done right.
Traditional squeegee dry method:
Our crew has been prepared and trained to be extremely effective in traditional window washing skills. Using mild non-staining detergents in our standard mix, we agitate the dirty glass with handheld scrubbers until a rich lather is attained. Then professionally remove it from the glass with a squeegee until completely dry without streaks. We dry the edges with lint-free towels and wipe down the frames. We also completely clean and dry the screens and replace them correctly and undamaged.
Unfortunately stains occur. Whether its cause is clear like neglect or sprinkler damage, or it is more of a mystery that needs to be solved, we are up to the task. We have employed several methods and products to combat the discolorization and or distortion left by mineral deposits and other chemical scarring. Although we are masters in these methods, we aren't miracle workers. Some stains are just too far gone for us to repair without full restoration.
Full restoration/ Scratch removal:
This is an extensive and time-consuming process. A single pane of glass can take a whole day to restore depending on size and degree of damage. The process is messy, loud, and intrusive. This is the last alternative before replacement.
Post-new-construction clean:
New structures that are built have glass installed fairly early in the process. The glass is often in place just as the shell of the structure is completed. Often prior to most of the other trades that will follow. That means the glass will have to endure, painters, drywall installers, concrete pours for walkways, roofers, landscapers, and more. Each of these trades leaves its mark on the new glass and if not properly protected can be a nightmare to clean. No worries! We have the chemicals and the proper procedures to make the property pop. After all, this brand-new property needs to look the part.
You've updated your preexisting structure with new impact windows. Whether for aesthetics or protection against storms, These beauties probably set you back a pretty penny and you want them to look perfect. Us too! We will take the time to meticulously process the glass to rid it of all manufacturer and installer left debris. From paint and adhesives to silicone and stickers, we will slow down and inspect every inch of the glass from multiple angles to find any imperfection and root it out. Leaving you with nothing but clear and clean glass.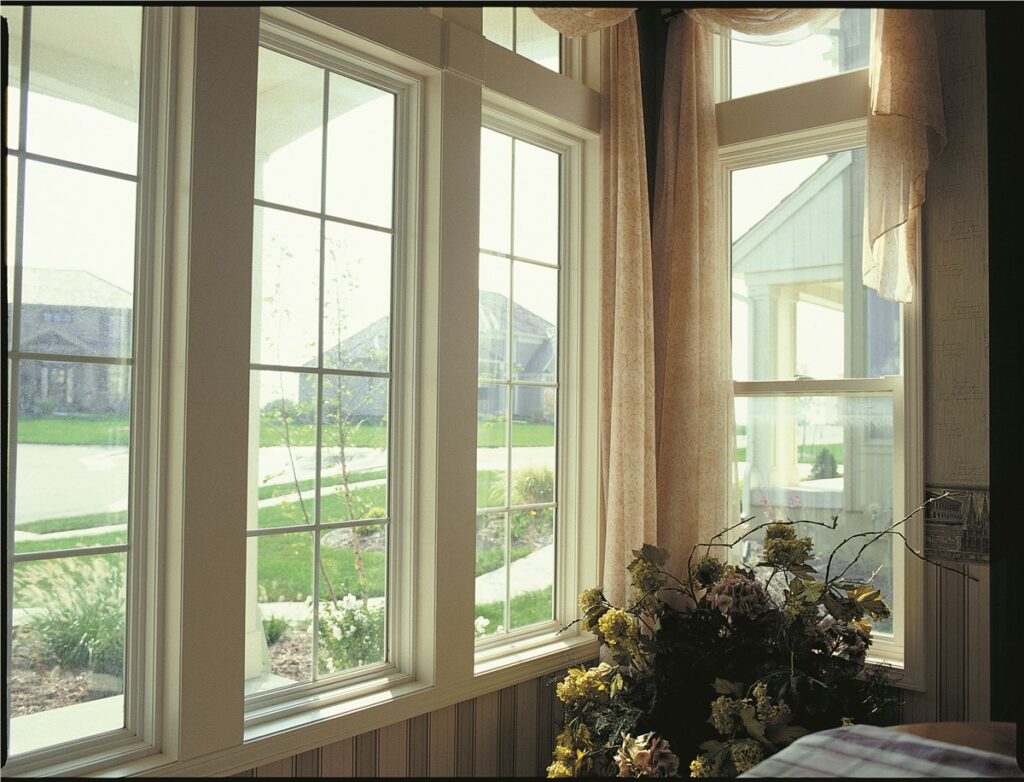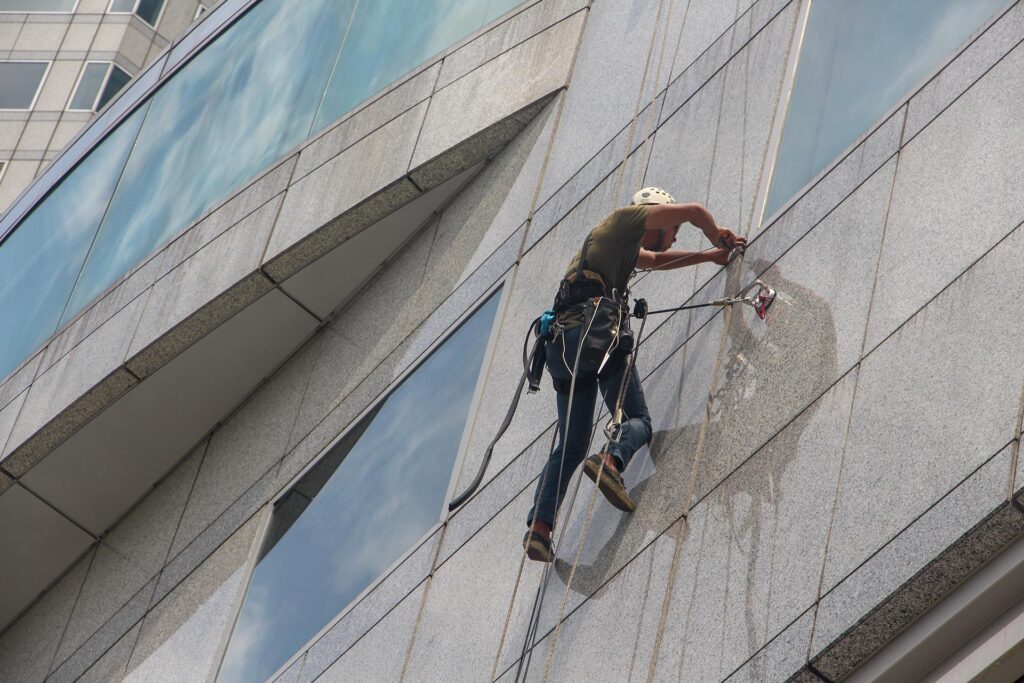 High-Rise Window Washing:
We will provide all approved and inspected equipment to suspend ourselves from the outside of the building. We follow all A.N.S.I. and O.S.H.A. standards when operating and the expectation of all our technicians is to far exceed the safety standards and to excel in our standard operating procedures. We demonstrate this by cordoning off the area we intend to work above with warning signs, tape, and cones. Our technicians are fully qualified and trained and subject to random testing to ensure safe practices and sobriety. We use a multitude of practices to accomplish the task, including ropes and boatswain chairs, platform boom lifts, and swing stage scaffolding when necessary. We are careful to protect property by using wood boards, carpeting, roof tile guards, and Effis foam protection where applicable. We leave the building walls unmarked and free from damage of any kind.
Most of the methods explained in our exterior section are incorporated into interior cleaning as well. There are a few items worth elaborating on though. When we enter a property the first thing we do is protect the floor as we move our equipment into the house or business. We are careful to place a cloth between our buckets and ladders from the floor or walls. We always wear booties to not bring in dirt from outside. Our crew is uniform and clean and takes the time to make sure they aren't intrusive to the nostrils as well. We are good with friendly pets and kids and are careful to respect naptimes and play dates. We are able to reach any windows, mirrors, or railings within the interior to any height. We will move furniture as needed and will usually take a snapshot of the room to make sure everything goes back to its proper location. We will lift blinds and move drapes being vigilant in our handling especially where window treatments and shears are concerned. We do request that if you have expensive breakables or personal family heirlooms, you inform our technicians prior to cleaning so that we can work out with you the proper handling and placement during cleaning. Our goal is that it is impossible to tell we were there except for sparkling clean windows and sills.